GPU computing systems increasingly adopted in the industrial field
In recent years we have witnessed in the industrial field an increased usage of GPUs for tasks that go beyond graphics, such as parallel computing or inference in systems exploiting AI algorithms.
Often, systems developed to host one or more GPUs absorb a large amount of electricity which is transformed into heat, that must be dissipated into the environment by means of a suitably sized thermal solution, to guarantee optimal operating temperatures and operational stability.
How to handle heat, the biggest enemy of hardware
In the industrial field, depending on the type of application, the choice of the thermal solution falls into one of these three types, each characterized by advantages and disadvantages.
Solution
Pro
Cons
Effectiveness
Passive dissipation by convection

Hardware isolated from external contaminants
No moving parts
No maintenance required
Economical
0 dB

PC position affects the performance of the solution
Limited performance, suitable for low power applications
Bulky system as the power rises

(0.1 ~ 1 KW / m 2 )
Active dissipation by convection

Flexibility and simplicity of realization
The effectiveness of the solution is less sensitive to the positioning of the PC
Cost effective

Hardware is exposed to external contaminants
Operating noise
Moving parts subject to wear
Needs regular maintenance

(1 ~ 10 KW / m 2 )
Water cooling

Suitable for high power density application
The thermal conductivity of the liquid is 20 times higher than that of air
Hardware operating temperatures significantly reduced compared to air solutions
Silent operation
Operational stability

Complex to implement
Complex to integrate
May require regular maintenance, depending on the type of solution
Moving parts subject to wear, depends on the type of solution

(10 ~ 1000 KW / m 2 )
Vecow's solution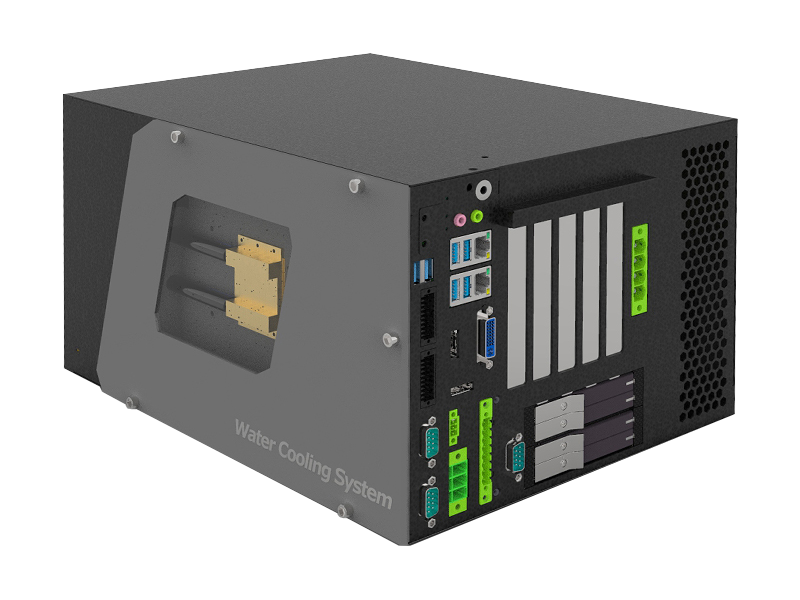 For the GPC-1000 and RCX-1500 systems, where can be installed up to two full-size GPUs with 300W TDP, Vecow offers a liquid thermal solution as an alternative to the traditional active air coling. Both open loop and closed loop solutions can be configured.
Open-loop solutions have the same mechanical dimensions as the respective air-cooled solutions and use coolant provided by an external system to cool down CPU and GPU. In this configuration, the hardware of the PC is isolated from external contaminants and maintenance level is similar to the one required by a passive convection thermal design.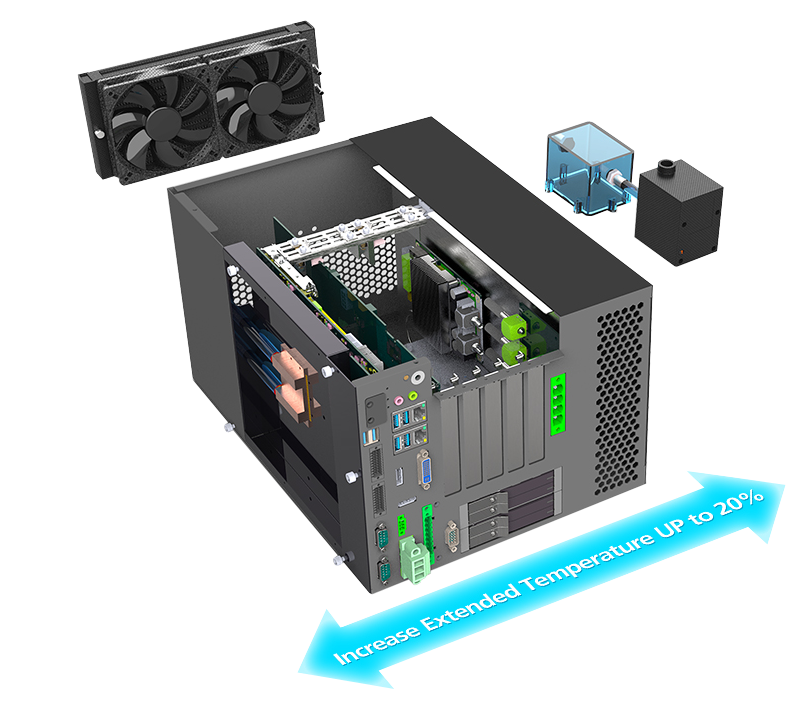 Closed-loop solutions have a larger footprint than air solutions. They embed in a single case, but in a separated section from the electronical boards, all the hardware for liquid recirculation and cooling. This kind of solution, although less performing than the open-loop one, allows to extend system's operating range up to 20% and to reduce the operative temperature by 10%, when compared to the respective air-cooled counterpart.
Go to
GPU Computing Systems