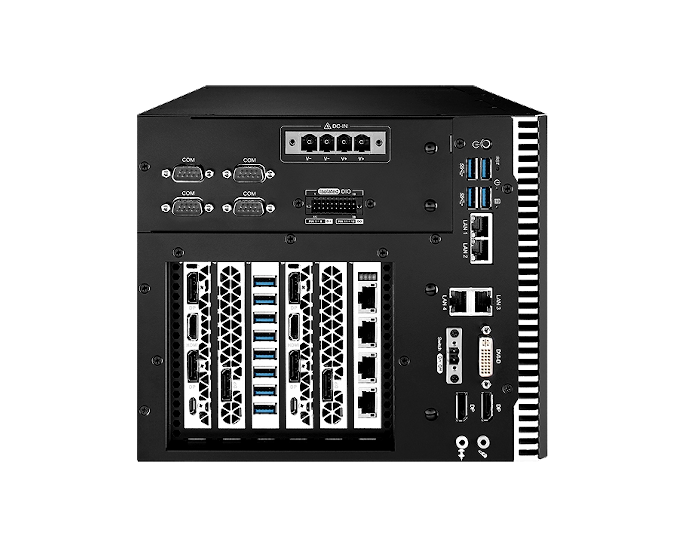 GPU Computing Systems
GPU Computing Systems combine fanless approach for CPU thermal management with the possibility of installing one or more GPUs.
Depending on the size of the solution, the cards used may take the form of an MXM module or PCIe expansion card, with size up to full size (267 mm) in the case of integration into larger systems.
Being products conceived from the beginning to embed one or more GPUs, the thermal solution, which can be active or passive depending on the case, integrates all the solutions to make system performance constant even under high load.
These solutions are ideal for machine vision and AI applications.
| | | | | | | | | | |
| --- | --- | --- | --- | --- | --- | --- | --- | --- | --- |
| Model | GPU | Memory Size | CUDA Cores | Display | FP16 Performance [GFLOPS] | FP32 Performance [GFLOPS] | FP64 Performance [GFLOPS] | FP16 Tensor Performance [GFLOPS] | TDP |
| NVIDIA Quadro RTX 8000 | TU102 | 48GB | 4608 | DP x4 | 32624 | 16312 | 509.8 | 130498.56 | 260W |
| NVIDIA Quadro RTX 6000 | TU102 | 24GB | 4608 | DP x4 | 32624 | 16312 | 509.8 | 130498.56 | 260W |
| NVIDIA Quadro RTX 5000 | TU104 | 16GB | 3702 | DP x3 | 22302 | 11151 | 348.5 | 89210.88 | 265W |
| NVIDIA Quadro RTX 4000 | TU104 | 8GB | 2304 | DP x3 | 14398 | 7119 | 222.5 | 56954.88 | 160W |
| NVIDIA GeForce RTX 2080 Ti | TU102-300-K1-A1 | 11GB | 4352 | HDMI x1, DP x3 | 26895.36 | 13447.68 | 420.24 | 107581.44 | 260W |
| NVIDIA GeForce RTX 2080 | TU104-400-A1 | 8GB | 2944 | HDMI x1, DP x3 | 20136.96 | 10068.48 | 314.64 | 80547.84 | 225W |
| NVIDIA GeForce RTX 2070 | TU106-400-A1 | 8GB | 2304 | HDMI x1, DP x3, DVI-D x1 | 14929.92 | 7464.96 | 233.28 | 59719.68 | 175W |
| NVIDIA GeForce RTX 2060 | TU106-200-KA-A1 | 6GB | 1920 | HDMI x1, DP x3 | 12902.40 | 6451.20 | 201.60 | 51609.60 | 170W |
| NVIDIA GeForce GTX 1660 Ti | TU116-400-A1 | 6GB | 1536 | HDMI x1, DP x1, DVI-D x1 | 10874.88 | 5437.44 | 169.92 | – | 130W |
| NVIDIA Quadro GV100 | GV100 | 32GB | 5120 | DP x4 | 33320 | 16660 | 8330 | 133283.84 | 250W |
| NVIDIA Quadro P6000 | GP102-875 | 8GB | 3840 | DP x4, DVI-D x1 | 197.4 | 12630 | 394.8 | – | 250W |
| NVIDIA Quadro P4000 | GP104 | 5GB | 1792 | DP x4 | 82.8 | 5300 | 165.6 | – | 105W |
| NVIDIA Quadro P2000 | GP106 | 5GB | 1024 | DP x4 | 47.36 | 3031 | 94.72 | – | 75W |
| NVIDIA Quadro P1000 | GP107 | 4GB | 640 | Mini DP x4 | 29.6 | 1894 | 59.2 | – | 47W |