The right operating system for each solution
Wanting to provide a 360° solution, we not only deal with the identification and sizing of the hardware, but we support the customer in the process of choosing the most suitable operating system, in terms of features offered and licensing policies, for the application under exam.
We have a great theoretical and practical knowledge of Microsoft® operating systems that covers the configuration, correct storage and production phases of the OS image on the system.
Our offer is divided into:
Consumer Microsoft® Windows™ operating systems
Consumer operating systems are those available in the retail market and follow the same licensing rules.
The versions currently available are:
Windows™ 7 Pro for embedded systems
Windows™ 10 Home
Windows™ 10 Pro
Windows™ 10 Enterprise
Embedded Microsoft® Windows™ operating systems
Embedded operating systems differ in functionality and licensing rules from the Consumer counterparts, and provide a set of advanced features that facilitate the development of a PC based solution to be used in a product that goes beyond the classic Desktop PC.
The versions currently available are:
Windows™ Embedded Standard 7
Windows™ 10 LTSB
Windows™ 10 IoT Enterprise LTSC
Windows™ 10 IoT Enterprise SAC
What are the advantages of an Embedded operating system compared to a Consumer version?
The benefits offered and the customization options available depend on the version of the operating system, depending on whether you are considering Windows ™ 7 or Windows ™ 10, as Microsoft® has changed the concept behind the operating system between these two versions.
Comparing Windows ™ Embedded Standard 7 with Windows ™ 7 Pro, the use of the Embedded version leads to the following advantages:
Complete configurability, possibility of having footprints on memory media of smaller size than the standard image
No activation needed
Longer lifetime and support
Easy deployment on the machine during production
Embedded customization options
With Windows ™ 10, Microsoft® introduced the concept of "Windows ™ as a Service".
What is purchased is no longer considered a well-defined software, but a full-fledged service, whose components are updated through feature updates or kernel updates every six months.
Comparison of features offered by the various versions of Windows ™ 10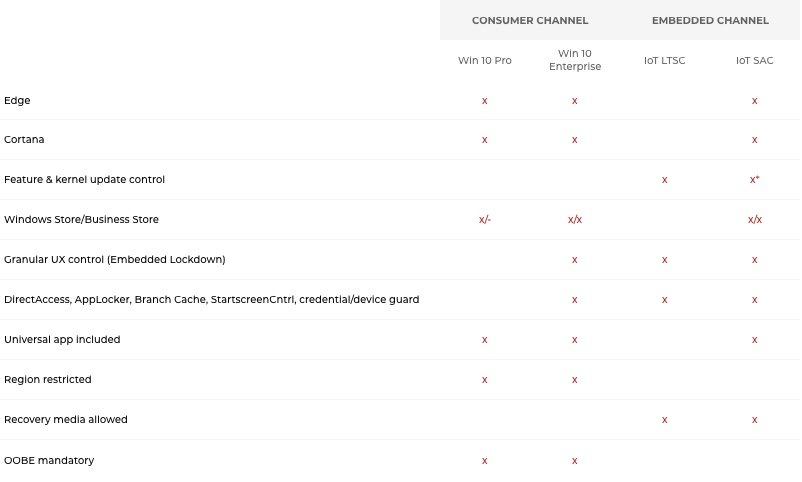 To complete the offer and to minimize the time-to-market of the final solution, on the embedded operating systems we provide the following services:
Production image deployment during system manufactoring
Microsoft® Windows ™ Server Embedded operating systems and software
Microsoft® Server Embedded products are equivalent in terms of functionality to the standard counterparts of the Microsoft® server operating system, but are designed to be used within embedded solutions developed ad hoc for a single purpose.
Windows ™ Server Embedded operating systems and applications are the correct choice when looking for long-term product stability and availability .
The main features at a glance:
All the features in the standard versions
License independent of the installed language
Online activation disabled
Availability of software versions already withdrawn from the standard channel
Lifetime of at least 10 years
Our offer includes:
Windows™ Server 2008 for Embedded Systems
Windows™ Server 2008 R2 for Embedded Systems
Windows™ Server 2012 for Embedded Systems
Windows™ Server 2012 R2
Windows™ Server 2016
Windows™ Server 2019
Windows™ Storage Server 2008 for Embedded Systems
Windows™ Storage Server 2008 R2 for Embedded Systems
Windows™ Storage Server 2012 for Embedded Systems
Windows™ Storage Server 2016
Windows™ Storage Server 2019
Windows™ SQL Server 2005 for Embedded Systems
Windows™ SQL Server 2008 for Embedded Systems
Windows™ SQL Server 2008 R2 for Embedded Systems
Windows™ SQL Server 2012 for Embedded Systems
SQL Server 2014 for Embedded Systems
SQL Server 2016 for Embedded Systems