---
Processors available
---
I9-12900E processor benchmark data
The benchmark data of this processor is really important and we report it below:

As always, Vecow has declined the models of this new family trying to satisfy all possible customer needs.
Products are specifically dedicated to applications of:
Machine Vision
Quality Control
Surveillance
This is why the availability of LAN / PoE and 10 Gigabit ports is really interesting.
Some models with a high level of integration
Here are some models with a truly extraordinary level of integration:
---
---
For SSDs in M.2. Format are also available models with 4 accessible hot swap bays.
The rich set of features also includes models with 16 DI / O and 6 USB 3.2 ports. All models are available in the R version with the double hot swap bay for SSDs.
---
All the models available
Below is the summary table of the models available: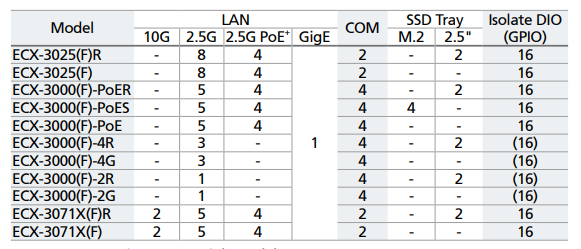 Like all Vecow products, these too can work in an extended temperature range, this feature also makes them suitable for use in critical applications from an environmental point of view.
For any information our sales technicians are available. Contact us.