We present the new family of PCs from Vecow ECX-3000 PEG Series, based on the 12/13th gen. Intel® Core™ Alder and Raptor Lake.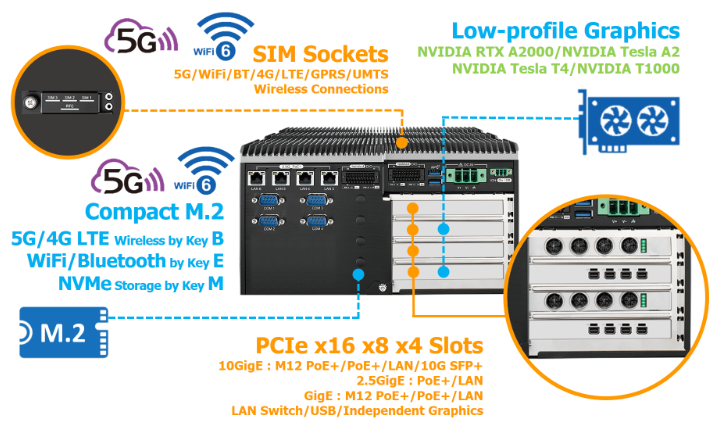 On these PCs we can install 12th and 13th generation processors with 65W TPD.

These processors in the i5 versions (only for the 13th generation), i7 and i9 have two types of Core:
P cores equipped with hyper-threading and used for operations that require greater computing power
core E, on which hyper-threading is not available, and dedicated to less demanding operations from a calculation point of view.
The set of these cores is managed by the Intel thread director which takes care of optimizing the E cores and the P Cores by assigning them the appropriate workloads.
We have already talked previously about the 12th generation Alder Lake, we summarize the technological improvements of the 13th below.
First of all we have an increase in the number of cores and therefore threads; let's take the respective embedded i9s for example: i9-12900E and i9-13900E.
| | | | |
| --- | --- | --- | --- |
| CPU | Core P | Core E | Cache L3 |
| i9-12900E | 8 core/16 threads | 8 core/8 threads | 30MB |
| i9-13900E | 8 core/16 threads | 16 core/16 threads | 36MB |
These implementations translate into benchmark data decidedly in favor of the 13th generation.
We use the data of the non-embedded processors as a comparison, as those of the 13th generation E version are not yet available.

---
Workstation for the industrial sector
The ECX-3000PEGs are real workstations suitable for use in an industrial environment
As can be seen from the name, they are PCs capable of hosting video cards and therefore also being used for AI applications that use video cards as parallel computing units or for really important graphics processing.
The power budget for video cards is 200W so we can use very high-performance video cards based on NVIDIA Ampere and Turing.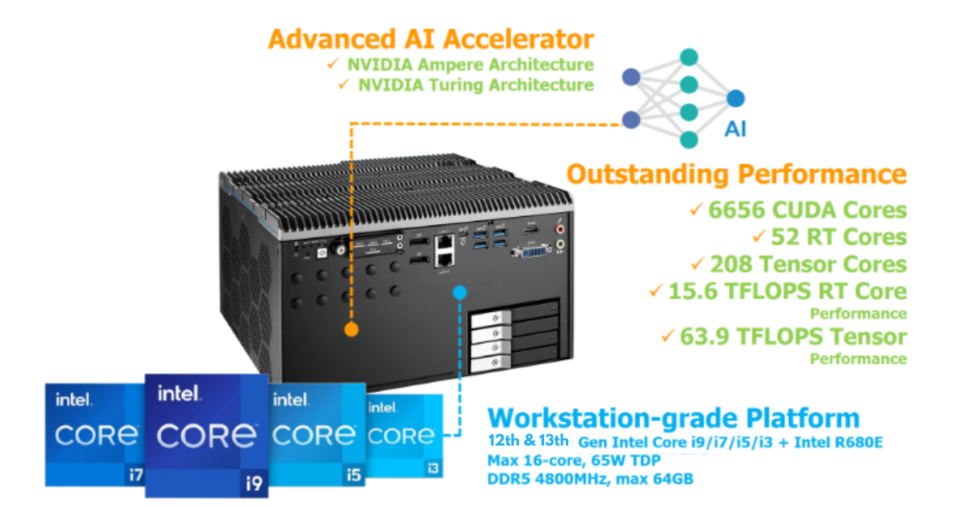 For example we can equip them with RTX-2070 (Turing) or with RTX-A4000 (Ampere).
Vecow, taking advantage of its rich series of add ON cards, has generated a series of models with a number of really interesting features which still leave the customer with the possibility of having expansion slots to dedicate to other peripherals.
The table below provides all the possible configurations available for this family of PCs.

Contact us for more information. Our sales technicians are at your complete disposal.