After presenting the SPC- 5200 , Vecow completes the range of ultra compact solutions by presenting the SPC- 5000 and 5100 , designed to offer the potential of low consumption processors Intel® Whiskey Lake ™ (i7-8665UE, i5-8365UE, i3-8145UE) in an even more compact design .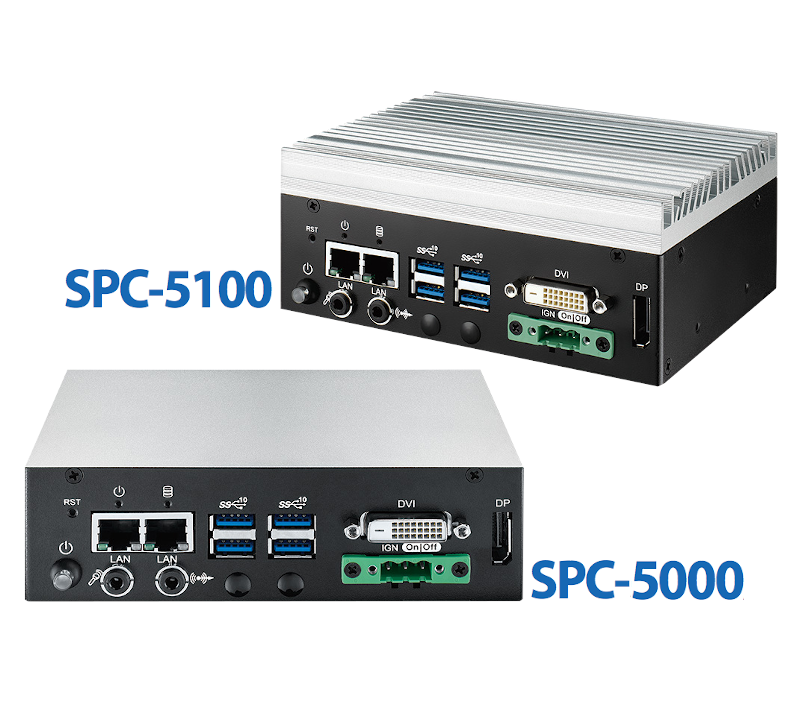 Speaking of technical specifications, SPC-5000 and SPC-5100 have the same features, including 2 GigE ports, integrated WiFi connectivity, 4 USB 3.1 , less than operating range -40 + 70 ° C of the SPC-5000 at -40 + 85 ° C of the SPC-5100 , which uses a heat sink instead of the heat spreader. Obviously this affects the height of the SPC-5100 which is taller (62.1 mm) compared to SPC 5000 and 5200 , both characterized by a height of 44 mm (1U) .
In general, the SPC-5000 family is able to offer good calculation performance and excellent energy efficiency , being able to increase the performance per Watt by more than 70% compared to the processors of the same category of the previous generation (Kaby Lake U). You can find more information on the subject here: Intel® WhiskeyLake ™ Vs. Intel® Kaby Lake ™ .
It is also possible to add functionality to the solution by installing expansion modules on the SUMIT bus, to equip the system, for example, with 10 GigE connectivity (both RJ45 and SFP) or 5G.
Discover more
Ultra-Compact Systems