TPole introduces the SPC 5200 based on the new Intel® Whiskey Lake ™ processor family.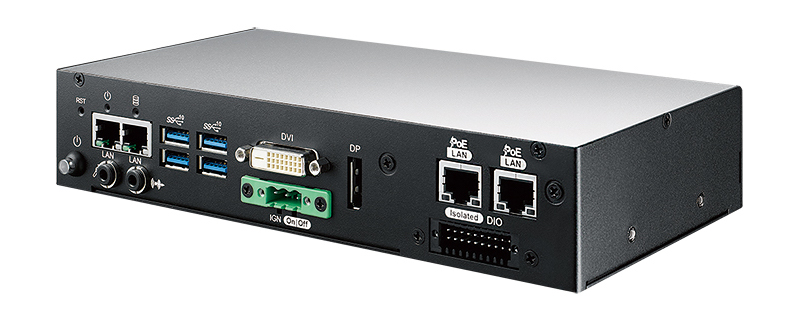 Performance, space, and low power consumption characterize the SPC 5200 as an excellent edge computing solution for video surveillance and vision applications, thanks also to the 4 GigE ports, of which 2 are PoE, and to 8 digital inputs and 8 digital isolated outputs.
The development tools made available by Intel®, such as OpenVino ™, and fully supported by the new Whiskey Lake ™ processors, simplify the optimization and deployment of convolutional neural networks and allow for a more flexible approach, compared to a traditional approach algorithmic, problems such as face recognition, identification and tracking of people and objects, quality inspection, making it possible to quickly develop high-performance, scalable and efficient solutions.
Compared to an ECS 9000 4G equipped with an Intel® Core ™ i7 6700TE processor, a solution that offers similar I / O options, the SPC 5200 is characterized by a comparable computing power compared to a considerably reduced mechanical size and consumption .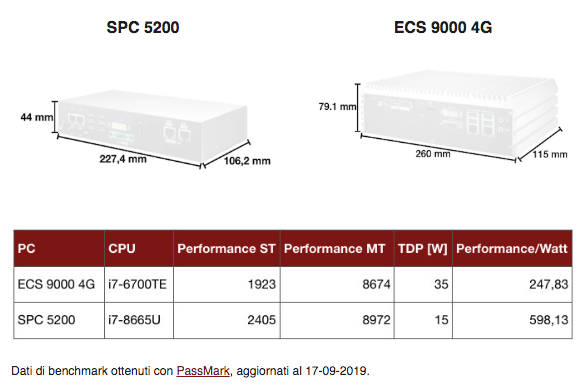 Burn-in-room and climatic chamber tests: why is it so important to carry them out?
Even in the case of low-power solutions such as the SPC 5200, it is advisable to check the stability and performance of the system within the operating temperature range for which it was specified.
These tests are even more important if you change the basic configuration of the product by adding components that can negatively and significantly impact the thermal design of the solution, such as discrete GPU or FPGA.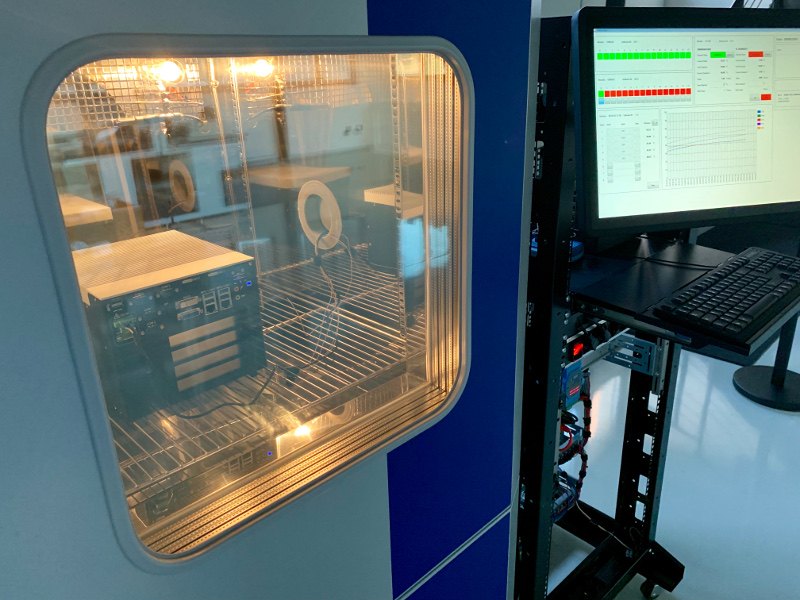 In order to simulate the most diverse operating conditions, in TPole we use a burn-in room, able to operate up to 60 °C, and a climatic chamber, able to control temperature [-40 °C; + 180 °C] and humidity [10% RH; 95% RH], to be able to qualify each product, from Mini PCs to bulkier systems such as rack mount servers.
Particular attention is paid to fanless solutions, since the forced air flow, used to perform temperature control, can significantly alter the real dissipative capacity of the adopted cooling system, leading to more optimistic results than those measurable in a real application.
This is why we are equipped to perform temperature-controlled tests in still air, so that we can verify the system as if it were operating in a real situation, but being able to have an isolated and replicable configuration.
---
Do you have doubts about the thermal balance of your solution?
Our experts are at your disposal!
The experience gained, combined with the instrumentation of our laboratory, will be able to clarify all your doubts.