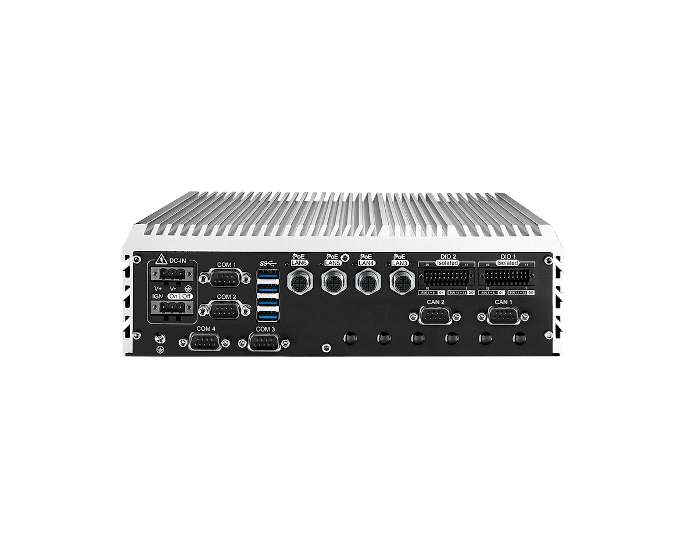 In Vehicle
In Vehicle systems are Fanless Box PCs designed to be installed on board vehicles (trains, buses, cars) and used in passenger information, vehicle control and video surveillance applications.
In addition to having a wide range DC input, all In Vehicle systems offer ignition functionality, allowing correct ignition management when the PC is connected to the vehicle's electrical system.
All systems in this category can be used in extended temperature range applications.
| | | | | | | | | | | | | | | | |
| --- | --- | --- | --- | --- | --- | --- | --- | --- | --- | --- | --- | --- | --- | --- | --- |
| | Model | LAN | USB 2.0 | USB 3.0 | USB 3.1 | USB 3.2 | M.2 | COM | PCI | PCIe | Mini PCIe | DIO | Power | | DM |
| | IVH-9204MX ICY | 6 | 1 | 8 | - | | - | 4 | - | - | 2 | 32 | 16-160V | | |
| | IVH-9204MXC | 6 | 1 | 8 | - | | 1 | 4 | - | - | 3 | 32 | 6-36V | | |
| | IVH-9204MX | 6 | 1 | 8 | - | | 1 | 4 | - | - | 3 | 32 | 6-36V | | |
| | IVH-9200M | 6 | 1 | 8 | - | | 1 | 4 | - | - | 3 | 32 | 6-36V | | |
| | IVH-9200 | 6 | 1 | 8 | - | | 1 | 4 | - | - | 3 | 32 | 6-36V | | |
| | | | | | | | | | | | | | | | |
| --- | --- | --- | --- | --- | --- | --- | --- | --- | --- | --- | --- | --- | --- | --- | --- |
| | Model | LAN | USB 2.0 | USB 3.0 | USB 3.1 | USB 3.2 | M.2 | COM | PCI | PCIe | Mini PCIe | DIO | Power | | DM |
| | IVH-9016-PoER | 18 | 1 | 4 | - | | - | 4 | - | - | 4 | 16 | 6-78V | | |
| | IVH-9008-PoER | 10 | 1 | 4 | - | | - | 4 | - | - | 4 | 16 | 6-78V | | |
| | IVH-9000-2R | 2 | 1 | 4 | - | | - | 4 | - | - | 4 | 16 | 6-78V | | |