We present the fourth evolution of our PC for industrial automation, the mii370 : mii for made in italy , 370 for the embedded chipset, the Q370 strong>.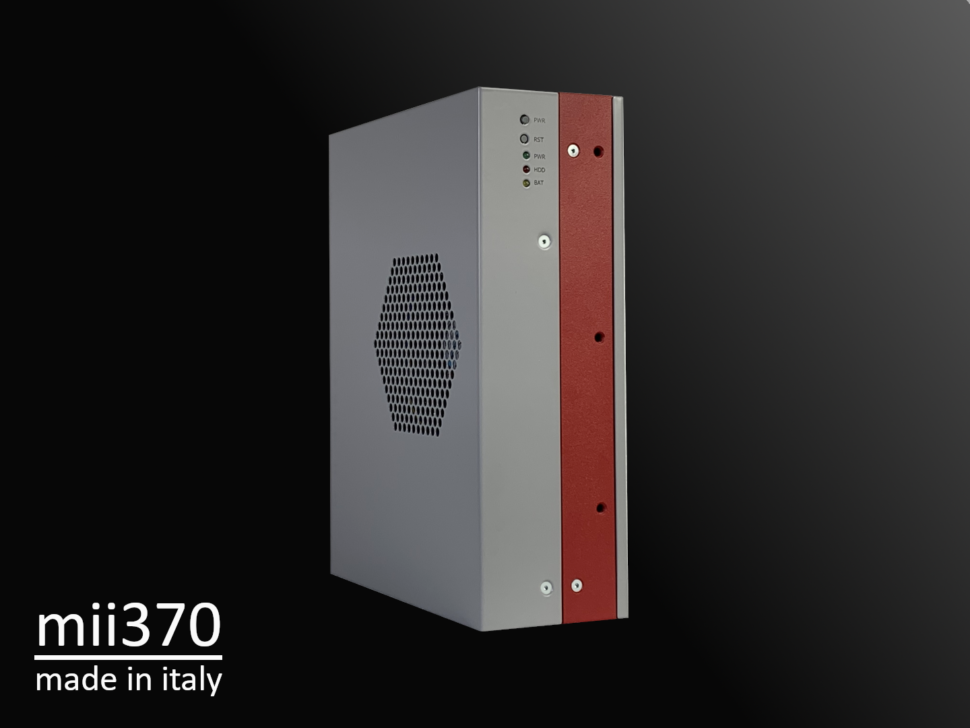 Design principles
The new model maintains the construction logic of its predecessors aimed at leaving the external mechanical dimensions unchanged , to facilitate field upgrade operations, but the internal layout has been completely revised so to optimize the expandability of the solution and cable routing .
As always, particular attention was paid to the ease of intervention : it is possible to access the storage media without using tools and the PC card with minimal intervention.
Another strong point of the project is the DC DC converter Wide Range Input with integrated UPS functionality .
This component, entirely designed by TPole and made in Italy , has been updated to be able to correctly manage the highest energy requirements of the latest Intel® architectures .
PC Architecture
You can install all 8th Intel® Core ™ CPUs (Coffee Lake) and ninth (Coffee Lake Refresh) generation with a TDP up to 65W , ensuring high scalability in terms of computing power and configuration flexibility to adapt to the single application.
Below is a list of compatible processors:
CPU
Core (C) Thread (T)
TDP [W]
i7-9700E
8C 8T
65
i7-9700TE
8C 8T
35
i7-9500E
6C 6T
65
i5-9500TE
6C 6T
35
i3-9100E
4C 4T
65
i3-9100TE
4C 4T
35
i7-8700
6C 12T
65
i7-8700T
6C 12T
35
i7-8500
6C 6T
65
i5-8500T
6C 6T
35
i3-8100
4C 4T
65
i3-8100T
4C 4T
35
Expansions
Two chassis variants are available: without slots and with two expansion slots .
The mii370 is designed not only to offer a great expandability already in the basic version (configurations up to 6 GigE ports already in the No Slot version ) but also to simplify as much as possible customization to adapt to the most particular project needs, characterizing it as an extremely versatile system .