Industrial PC
Industrial PC
Our range of industrial PCs offers the most complete freedom of choice in the PC architecture to integrate, typically for automation applications are used ATX or Full Size (using a passive backplane).
We can use different types of chassis (rackmount or wallmount) 1U to 8U, both single and multi segment segment. The established collaboration with our suppliers allows us to customize the mechanical solutions both from a product catalog, apply small changes, is studying solutions completely custom.
Here are some examples of the chassis used.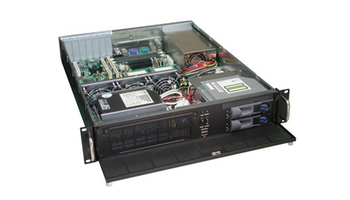 | | | | | | | |
| --- | --- | --- | --- | --- | --- | --- |
| | Model | Size | Motherboard supported | Drive Capacity | Power Supply | Datasheet |
| | GHI-112 | 1U | ATX M/B (Max. to 12″ x 9.6″) | 1x Slim CD-ROM & 1x Slim FDD & 1x 3.5″HDD | 1U Single ATX P/S | |
| | GHI-270 | 2U | Dual Mini-ITX M/B (Max. to 6.7″ x 6.7″) | 4x 3.5″HDD | Dual 1U ATX P/S W=80mm | |
| | GHI-314 | 3U | ATX M/B (Max. to 12″ x 10.5″) | 2x 5.25″ , 4x 3.5″ Swappable Trays | 2U Single or 2U Redundant ATX P/S | |
| | GHI-404 | 4U | EATX M/B (Max. to 12″ x 13″) SSI EEB 3.0 | 2x 5.25″CD-ROM & 1x 3.5″ HDD (Hidden) | Single or Mini Redundant ATX P/S | |
| | GH-414 | 4U | ATX M/B (Max. to 12″x9.6″) | 3×5.25″ & 1×3.5″ & 1×3.5″HDD(Optional) | Single or Mini Redundant ATX P/S | |
| | GH-520 | 5U | EATX M/B (Max. to 13″ x 16″) SSI EEB 3.0 | 4x 5.25″ & 1x 3.5″ | Vertical Redundant ATX or DC P/S | |
| | GHI-691 | 6U | EATX M/B (Max. to 13″ x 16″) With Removable Drawer | 1x Slim CD-ROM, 1x Slim FDD & 32 x 3.5″ Swapple HDD & 4×3.5″ Hot Swapple HDD on Rear Side (Optional) | 1U Redundant ATX P/S | |